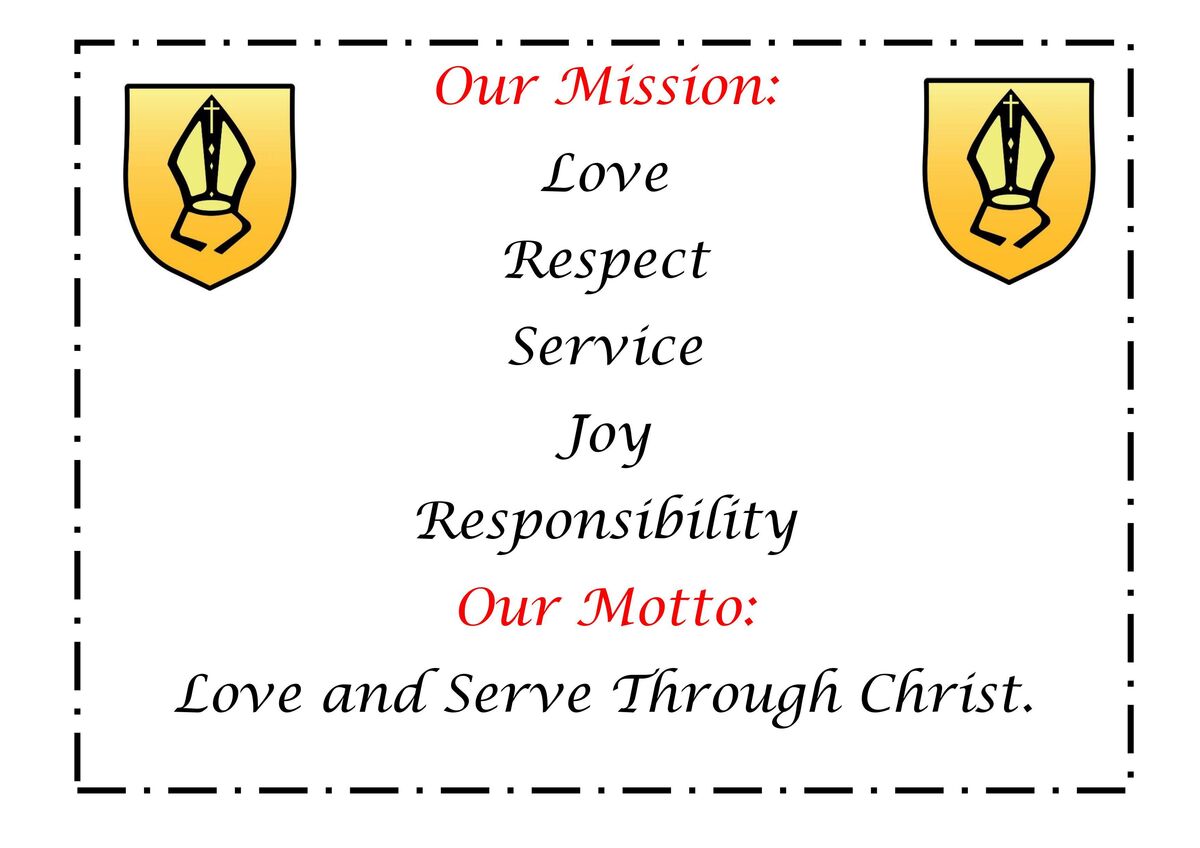 St Augustine's School exists to help parents and carers to educate young people spiritually, morally, physically and academically as well as possible. We aim to be a truly Christian community, where our relationships are built on encouragement, concern, respect, forgiveness and reconciliation.
Our religious life is rooted in the faith, practice and moral teaching of the Roman Catholic Church. Each person in our community is specially valued and has an important part to play in making sure that we live out our mission.
The values, vision and ethos of the St Cuthbert's RC Academy Trust:
Vision Statement
"Ordinary people - working together - achieving extraordinary things"
Convinced that people have an unbelievable capacity to do great things, we aim to provide rich and wide ranging opportunities for people to achieve more than they ever thought possible.

Values
EXCELLENCE - AMBITION - PARTNERSHIP - RESPECT - JOY - INTERNATIONAL

As a Trust, at the heart of our Christian service is to welcome and value each individual as equal, regardless of nationality, gender, race, colour, sexuality or creed. We pride ourselves on our exceptional standards of personal pastoral care, rooted in our Christian tradition and values of kindness, support, peace, justice, forgiveness and joy. Our outlook and ambition is international and inclusive.
Mission
World Class Experience - World Class Thinking - World Class Achieving

Strategic Priorities
All schools are committed to becoming system leading centres of excellence.
- All students receive a broad, progressive and ambitious curriculum which enables and empowers
- Students have high aspirations, know how to achieve them and are given the opportunity to do so.
Working towards a greener and more sustainable future
- We will demonstrate our Trust's commitment to care for our common home
- Students will be effectively prepared to contribute to social and economic progress required to build a sustainable future
Developing a Trust culture and standard, whilst respecting the unique history, context and character in each of our family of schools
- Our schools should be the centres of choice for the communities they serve. Central systems support excellent practice
- Our 'world class' vision is shared by all Directors, staff and students and is the platform for profound action
Leadership and workforce development
- Sustained investment in high quality professional development of staff at all levels
- Strong partnerships are fostered within our schools and with organisations that share our commitment to world class standards
Promote Catholic values and celebrate all that makes a Catholic education distinct
- Supporting the vulnerable, the disengaged and disenfranchised by removing multiple and complex barriers to learning and success
- Promote the spiritual, moral, academic and social growth of every individual
Providing high quality financial direction and leadership to secure and sustain the Trust
- Provide high quality centralised services to allow schools to focus on teaching and learning
- Explore growth opportunities and develop revenue streams to strengthen and sustain the Trust.