Careers Information Advice, Support and Guidance (CIASG): Key information
Our CIASG (Careers Information Advice, Support and Guidance) programme is taught to all year groups with a focus on employability skills and one-to-one interviews. Our programme ensures that our pupils get the best possible start in life through effective support and guidance.
Careers Department
Telephone: 01723 363280
The Careers programme:

Please see details of our careers programme and special careers events in the documents below.
If you are an employer and would like to get involved in supporting our careers programme then please email our Careers Advisor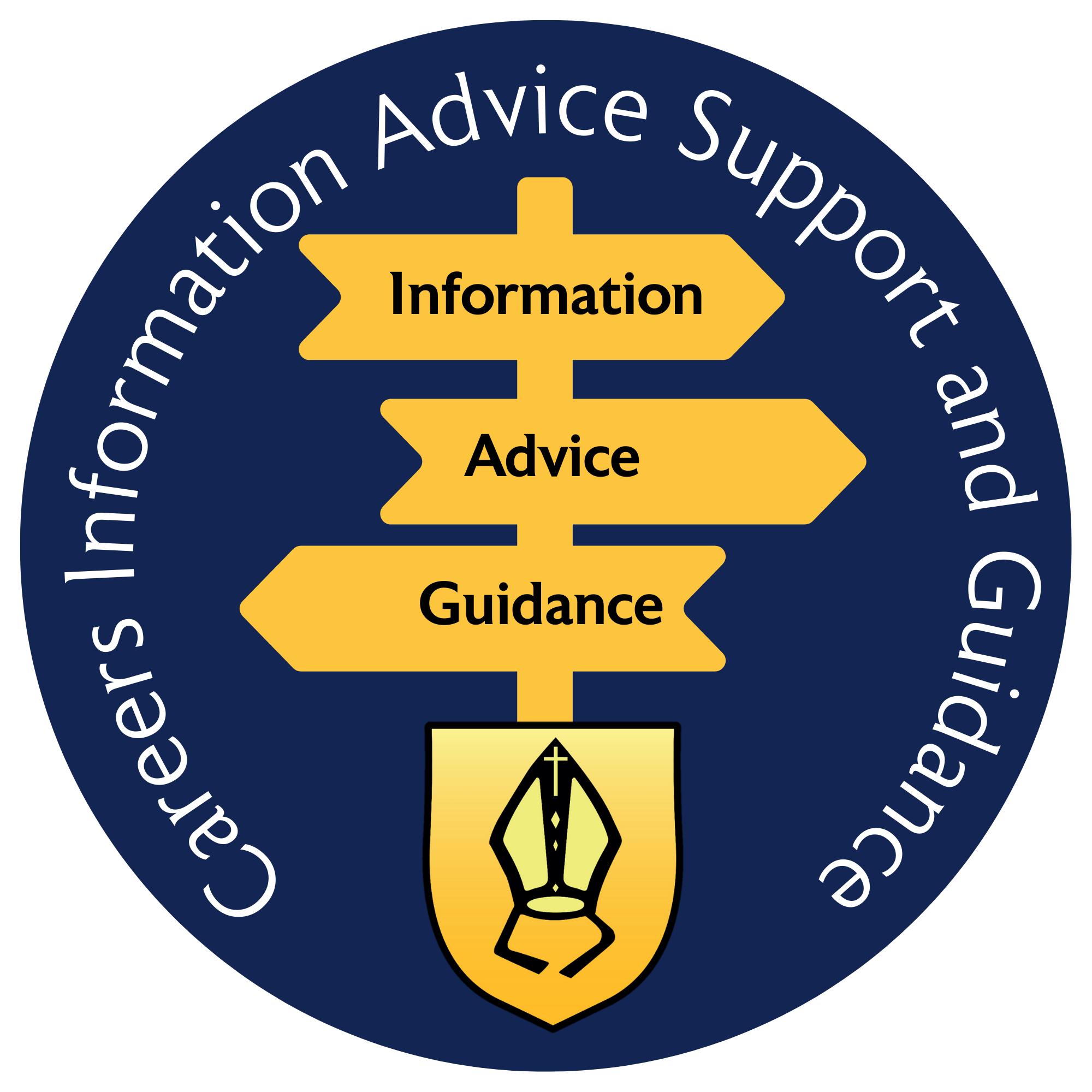 Aims
Information Advice & Guidance is central to the ethos of St Augustine's School
We aim to:
support students in understanding themselves, their skills and potential and thus recognise the learning path and career opportunities which will suit them.
ensure that every student receives CEIAG throughout their school life in advance of key decision-making milestones.
ensure that every student leaves us ready for their next step in further education, apprenticeships and the world of work
provide a focused approach to careers education and employability that enables all students to develop the transferable skills to succeed in a competitive job market.
engage parents, employers and other key stakeholders in ensuring that we have a collaborative approach in supporting our students in their developing good employability skills and traits.
Our CEIAG
Every member of staff in St Augustine's School, whether teaching or non-teaching is fully committed and involved in CEIAG delivery in some form at every stage of a student's development. This could be as a personal tutor, a learning mentor, a teaching assistant, head of year or a subject teacher. Several staff have professional experience within the framework of IAG and are supported by an independent Careers Adviser, who is in school 2 days a week.
Provider Access Legislation statement
St Augustine's School: Provider Access Policy Statement
Ownership: St Cuthbert's Academy Trust
Date updated: January 2023
Rationale
High quality careers education and guidance in school or college is critical to young people's futures. It helps to prepare them for the workplace by providing a clear understanding of the world of work including the routes to jobs and careers that they might find engaging and rewarding. It supports them to acquire the self-development and career management skills they need to achieve positive employment destinations. This helps students to choose their pathways, improve their life opportunities and contribute to a productive and successful economy.
As the number of apprenticeships rises every year, it becomes increasingly important that all young people have a full understanding of all the options available to them post-16 and post-18 including wider technical education options such as T-Levels and Higher Technical Qualifications.
Commitment
St Augustine's School is committed to ensuring there is an opportunity for a range of education and training providers to access students, for the purpose of informing them about approved technical education qualifications and apprenticeships.
St Augustine's School is fully aware of the responsibility to set students on the path that will secure the best outcome which will enable them to progress in education and work and give employers the highly skilled people they need. That means acting impartially, in line with the statutory duty, and not showing bias towards any route, be that academic or technical.
St Augustine's School endeavours to ensure that all students are aware of all routes to higher skills and are able to access information on technical options and apprenticeships (The Department of Education, July 2021: "Baker Clause": supporting students to understand the full range of education and training options, and the Provider Access Legislation, January 2023).
Aims
St Augustine's School policy for Access to other education and training providers has the following aims: To develop the knowledge and awareness of our students of all career pathways available to them, including technical qualifications and apprenticeships. To support young people to be able to learn more about opportunities for education and training outside of school before making crucial choices about their future options. To reduce drop out from courses and avoid the risk of students becoming NEET (Young people not in education, employment or training).
Student Entitlement
St Augustine's School fully supports the statutory requirement for students to have direct access to other providers of further education training, technical training and apprenticeships. The school will comply with the new legal requirement to put on at least six encounters with providers of approved technical education qualifications or apprenticeships. This will be done in assemblies in National Apprenticeship Week and National Careers Week, in addition to providers attending careers events at school or at each Trust school and students visiting external events for example the STEM event for year 9 where the following providers engaged them in educational games and information and apprenticeships and technical careers:
Anglo American
Unison
McCain Foods Ltd
Firmac Ltd.
Derwent Training Association
Schneider Electric Ltd
Castle Group Ltd
Dale Power Solutions
FESTO
Joy Global 600 UK / Electrox
FANUC UK Limited
Cirrus Research
Woodall Nicholson
Imagineering Foundation
Scarborough TEC – Training Education Careers
CU Scarborough – Coventry University Group
Legrand
University of Hull
Development
This policy has been developed and is reviewed annually by the Careers Leader Natalie Cullen and Careers Adviser Claire Garton based on current good practice guidelines by the Department for Education.
Links with other policies
It supports and is underpinned by key school policies including those for Careers, Child Protection, Equality and Diversity, and SEND.
Equality and Diversity
Access to other providers is available and promoted to allow all students to access information about other providers of further education and apprenticeships. St Augustine's School is committed to encouraging all students to make decisions about their future based on impartial information.
Requests for access
Requests for access should be directed to Natalie Cullen, Careers Leader. Natalie may be contacted by telephone or email ncullen@staugs.smccat.org.uk, Tel 01723 363280.
Grounds for granting requests for access
Access will be given for providers to attend during school assemblies, timetabled Careers or Life lessons, and Careers or Raising Aspirations events that St Augustine's School is arranging. Students may also travel to visit another provider as part of the trip to be organised in partnership with St Cuthbert's academy trust.
Details of premises or facilities to be provided to a person who is given access
St Augustine's School will provide an appropriate room or assembly hall to be agreed. All rooms have computers, projectors and screens provided. Computer rooms can also be arranged. The Careers Leader or Careers Adviser will organise this, working closely with the provider to ensure the facilities are appropriate to the audience. Appropriate safeguarding checks will be carried out. Providers will be met and supervised by a member of the Careers Team who will facilitate.
Live/Virtual encounters
St Augustine's will consider live online encounters with providers where requested, and these may be broadcast into classrooms or the school assembly hall. Technology checks in advance will be required to ensure compatibility of systems.
Parents and Carers
Parental involvement is encouraged, and parents may be invited to attend the events to meet the providers.
We invite you to give us your feedback at any time- thank you:
Management
The Careers Leader coordinates all provider requests and is responsible to his/her senior management line manager.
Complaints Procedure
Any complaints about this policy should be raised to Natalie Cullen, email: ncullen@staugs.smccat.org.uk Natalie Cullen will raise the complaint to Aishling Robinson, head teacher.
Monitoring review and evaluation
The Policy is monitored and evaluated annually via the Executive Leadership Team.
Policy Coordinator: Claire Garton
Policy Reviewed: January 2023
Appendix
Providers who have been invited into St Augustine's school to date include:
Bishop Burton College
Scarborough Tec
East Riding College
Scarborough UTC and 6th form
ASK apprenticeships
Vantage Motor Group
Scarborough Borough Council Apprenticeship department
Plaster Coving
NHS
Destinations of previous pupils from St Augustine's School include:
Askham Bryan College
Bishop Burton College
Scarborough Tec
Scarborough sixth form
East Riding College
Scarborough UTC 6th form
Scarborough football scholarship
Construction Skills village
York College
One to one career interview
Every student in Year 10 and 11 is offered a 1-2-1 careers interview. Some students have more than one interview. Career ideas and destinations are recorded. Year 9 students and above who are looked after by the local authority or have special educational needs or disabilities will also have a careers meeting at regular review stages.
Resources
There is a Careers Service office situated within St Hilda's, where students can access paper and computer-based information and resources. Learners are introduced to careers during tutor sessions from year 7 upwards.
NEETS Record [Not in Education Employment or Training]
We have an excellent track record of ensuring that none of our pupils end up NEET at 16. The College tracks leavers to ensure that they are engaging with their planned pathway post 16.
Careers Programme
Our CEIAG delivery model is one that is embedded in our pastoral and PSE and RSE curriculum. It has been revised to cover the Gatsby Benchmarks and is regularly updated to incorporate new developments.
Information on jobs and careers
Dear Parents/Caregivers
We would like you to help us to ensure that we are supporting you and your child in the best way we can to make informed decisions about their choices post 16.
Options at Post 16 have increased recently with the introduction of T Levels. I have attached a link to a short video which explains all the options. We would appreciate it if you could take the time to look at the new resources on the careers section of the website which, I hope, will answer any questions you may have about your child's options once they leave St. Augustine's School.
I have also attached a copy of ' Shape your Future' which is a new resource which gives more detailed information about career routes, options and pathways, including information about the changes in the labour market.
Please do not hesitate to get in touch if you have any questions.
Claire Garton
Careers Advisor
Use these links to look up what skills and qualifications you need for the job you are interested in.
Here you can also find out details about wages. It is also important to look at job prospects so you can see whether it is expected that there will be more or less jobs in that career in the future.
Here you will also find suggestions of other similar jobs in that area which you may not have thought of. Have a good look around and inform yourself!
Information for students
Information for parents and caregivers


Information for Teachers
It is vital that careers education is not seen as additional to the curriculum, but rather forms an integral part of it. At St Augustine's School, we aim to ensure that students are made aware of the relevance to future careers of the topics and skills that they are studying in lessons. Staff are reminded and encouraged to regularly include job and career opportunities within their subject area. Teachers have a range of resources and also teach the following during PSHE from years 7 to 11:

Goal Setting
Money and Earnings
Dream jobs and skill set
Personal strengths

Teachers also display curriculum related posters around the labour market and raising aspirations in relation to careers.
Useful websites:
https://www.youthemployment.or...
https://www.optimuseducationre...
https://www.careersandenterpri...

CV Writing

How to write a great CV - please follow the web link and guidance documents below:
Contact details:
Mrs C Garton
email: cgarton@staugs.smccat.org.uk
Tel: (01723) 363280
Careers Advisor
St Augustine's School
Sandybed Lane
SCARBOROUGH. YO12 5LH